A Scientifically Proven Sales Training Process
Scientific research has confirmed that for training to produce positive behavior change it must not be an event, but a process. The Hoffeld Group Sales Training Process™ provides a learning continuum that encompasses three core phases that impart the essential knowledge and skills required to obtain a high level of competence in selling.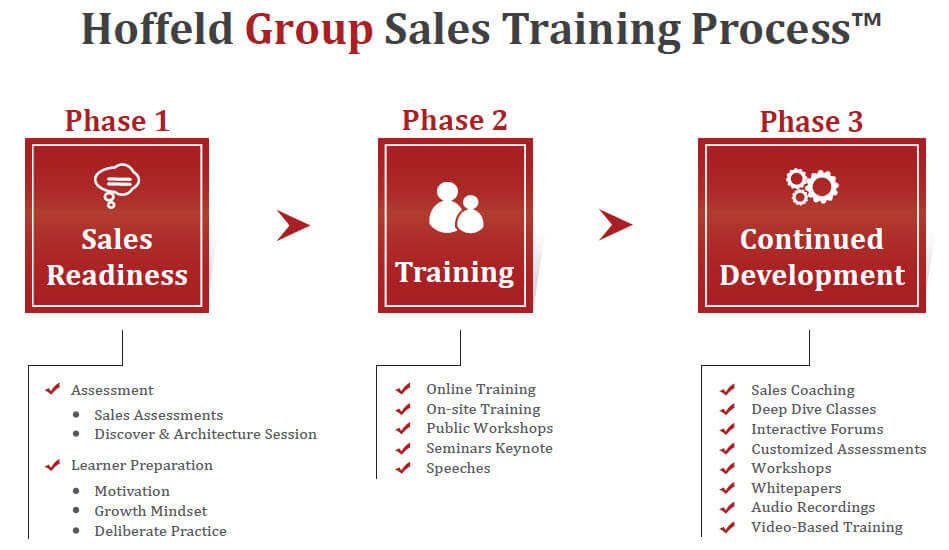 Phase 1: Sales Readiness
Every sales person and organization is different. The sales readiness phase lays the groundwork for success by assessing and architecting a training solution customized to the specific needs of our clients. In addition, the successful deployment of any training initiative is dependent upon achieving buy-in from those within the organization. A core part of our sales readiness phase is preparing sales people, managers and the entire organization for sales training.
Phase 2: Training
The training sales people receive will determine which activities, behaviors and skills they use when selling. This is why the quality of sales training that sales people obtain will either lead them towards success or failure.  Our sales training is unique because its based on objective, verifiable science and equips sales people to be successful in today's challenging selling climate.
Phase 3: Continued Development
In today's hyper-competitive marketplace, if sales people are not improving, they are falling behind. There is a mountain of scientific evidence that has shown that continued development is a vital component of achieving heightened levels of performance. This third phase of the Hoffeld Group Sales Training Process™ provides sales people with the opportunity to continue improving their sales ability through: sales coaching, deep dive classes, interactive forums, customized assessments, workshops, whitepapers, audio recordings and video-based training.